Olivia has Pseudo Obstruction.
It is a motility disorder which in turn requires hershe can receive daily an IV solution (TPN) filled with the needed nutrients.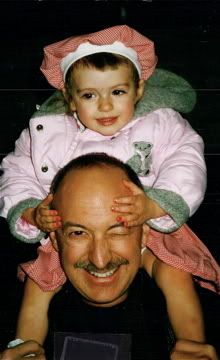 Olivia on her Daddy's shoulders Easter 2002--a week before her surgery.

Thankfully she has a "G-Tube" which she can vent out the contents if her tummy hurts. She also has a "J-tube" to vent her small intestine. Myopathic Pseudo Obstruction can also affect the bladder; Olivia needs to be cathed during the day and we put in an "overnight cath" as well. Because she no longer has a colon she has an ileostomy.




Olivia was diagnosed just days before her 2nd birthday and had her life giving surgery 2 days after her 2nd birthday in 2002.



David and Olivia on the Great Journey Adventure of 2008!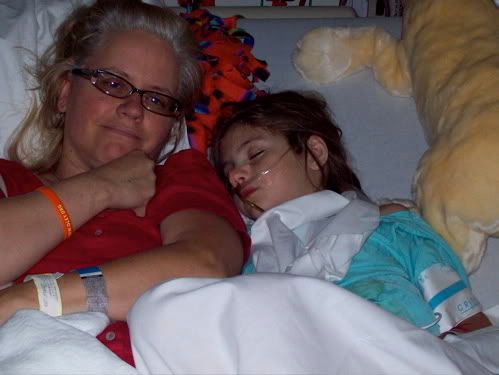 Mama and Olivia PICU~ September 2008

<

D and O with Cousin Carolyn!



Friday, September 11, 2015 1:02 PM CDT

September Eleventh

Bouncing from Facebook, to New Albany, to Corydon and now Lanesville's library--wistful feelings and thought maybe journaling may be in order.

An update on Olivia does seem to be in order.

All last year we contemplated her arriving at the doorsteps of public school entering highschool. So the hunt was on for the best environment in Harrison County, Indiana. Many new folks had been sent our (my new family) way and everyone seemed to point to Lanesville HS. Olivia and I met with the leaders, nurse, and later again and I was sold. My parents both were very supportive.

June 11th Olivia was riding Red, our horse and fell, broke her pelvic bone in three places (rather normal if one is to break a pelvic bone) and rather stay in New Albany, CCHMC transported us to Cincy to be reevaluated.

During that week my mom had been experiencing negative symptoms from chemo, cancer. I had been rather busy with the arrival of Ginger, mare, and three ponies. My phone calls to mom were not as frequent as I had hoped in that last week, but during one of the conversations she shared about her last chemotherapy session where the therapy had been altered. She commented that she should have been a comedian. She had all the nurses laughing. She had stage 4 colon cancer, no one put a number on it; didn't have to--I know how to use the internet. I know what 17 lesions on a liver means. It completely robs one of the absolutely best mother and grandmother, hands down.

So on the way to Childrens, as I rode in the front, I texted briefly with my mom, and within less that twelve hours she would be dead.

Dramatic. Heck yeah. We are talking about Logi.

Talk about UNASSUMING--RARELY talked about HERSELF...or bragged on anyone...made you laugh, feel loved, and the very intimate small moments folks have been sharing with me concerning my mom...

aches.

There I was on the same floor as 2008 where I thought Olivia was going to pass over to Jesus and my brother was telling me that my mom was gone.

In such a strange way, it was comforting to be there, pacing that same tiled floor, looking out that same window.

Crawling back into bed with Olivia we called David and told him. Heart wrenching.

How much she loved her grandchildren.

So, as it stands now, Olivia is a freshman in Lanesville HS. She has straight As except two Bs, one in Algebra I (mea culpa) and a Career Class. Biology, Spanish, Choir, English, World History. She has figured out how to maneuver a world made for normal people, and has even endeared herself to them. She IS the LIGHT, making a difference to a group of folks who by the end of 4 years are going to be changed.

David is a junior at Highlands Latin School in Louisville, where his academics include physics, metaphysics, pre cal, Latin, choir, Lit, European history. . .

Pressing on.

To Jesus.

Read Journal History
---
Hospital Information:
Patient Room: HOME

Cincinnati Children's Hospital Medical Center
www.cincinnatichildrens.org (Most childrens hospitals have E-cards to send to the children--check out the websites of the hospital)
Cincinnati, OHIO
1-800-344-2462

Links:

http://web.mac.com/sdekold DeKold family, art, and other thoughts.
http://www.sierra-faith.com/ My brother's site, his thoughts on God, Country and Family!
http://www.caringbridge.org/ma/natalie Natalie's Page